Latest News
Jan 12, 2018
Efficient, flexible and aesthetic – LED luminaires from Thorn make just the right impression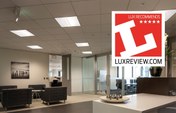 Jan 04, 2018
IQ Wave awarded 5 stars by Lux Review
Dec 13, 2017
The Jury will announce the winner on 25th of January 2018.
Nov 28, 2017
Thorn Lighting has illuminated the Queensferry Crossing – an impressive new bridge spanning the Firth of Forth on the eastern side of Scotland.
Nov 27, 2017
An overview of all Thorn product launches for autumn 2017.
Oct 19, 2017
Zumtobel Group awards its fifth international architecture prize