World's leading exhibition for light and building services technology

Efficient, flexible and aesthetic – LED luminaires from Thorn make just the right impression
Click the image to view our full range of indoor luminaires

Click the image to explore our full range of outdoor luminaires

Click the image to visit our range of controls & emergency products
More powerful, more flexible, and ready for the smart cities of the future.

Thorn's ceiling luminaire for workplaces can now be surface mounted or suspended, creating a family of fittings.

We are continually developing our product portfolio, with a commitment to excellence in optical performance and installer functionality.
Most Popular
A highly durable, IP65 rated, luminaire for use in wet and dusty areas, where reliability is important

Pre-wired and unwired trunking units with patented 'toolfree' mechanical connection for continuous row luminaires

A slim circular luminaire for wall or ceiling mounting, which blends with most architectural styles
Application by Case Study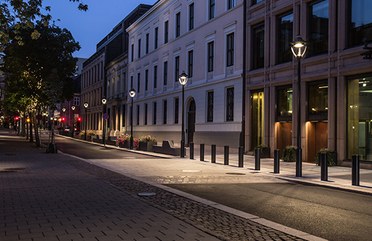 Thorn refurbishes City of Oslo lighting with efficient LEDs and smart controls.