Efficient, flexible and aesthetic – LED luminaires from Thorn make just the right impression

IQ Wave awarded 5 stars by Lux Review
Click the image to view our full range of indoor luminaires

Click the image to explore our full range of outdoor luminaires

Click the image to visit our range of controls & emergency products
More powerful, more flexible, and ready for the smart cities of the future.

Thorn's ceiling luminaire for workplaces can now be surface mounted or suspended, creating a family of fittings.

We are continually developing our product portfolio, with a commitment to excellence in optical performance and installer functionality.
Most Popular
A single point suspension high bay, saving you time, energy and money

Striking luminaire for wall or ceiling mounting with encircled diffuser for directional halo effect

A range of IP65 rated LED luminaires for high quality low energy lighting in wet, dusty environments
Application by Case Study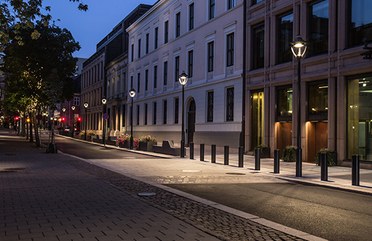 Thorn refurbishes City of Oslo lighting with efficient LEDs and smart controls.