Zumtobel Group awards its fifth international architecture prize
Click the image to view our full range of indoor luminaires

Click the image to explore our full range of outdoor luminaires

Click the image to visit our range of controls & emergency products
More powerful, more flexible, and ready for the smart cities of the future.

Thorn's ceiling luminaire for workplaces can now be surface mounted or suspended, creating a family of fittings.

We are continually developing our product portfolio, with a commitment to excellence in optical performance and installer functionality.
Most Popular
High performance industrial T16 (T5) fluorescent luminaire, IP23 rated, with patented hinged installation hatch

A value range of surface mounted or pendant luminaires, for direct lighting with louvres

A range of curved profile linear fluorescent luminaires with clear or opal diffusers for surface or suspended mounting
Application by Case Study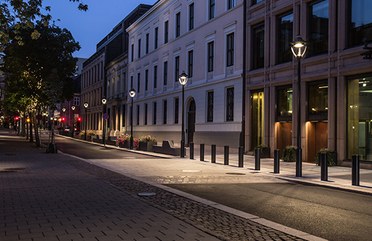 Thorn refurbishes City of Oslo lighting with efficient LEDs and smart controls.